Hail & Storms Can Damage your Roof
In West Michigan, wind gusts over 50 mph aren't uncommon. While there are preventative things you can do to help ensure that your roof can withstand a pounding in the form of windstorms, you can't always beat Mother Nature.
After a storm event, there are things you can and should do to prevent further deterioration of your roof and identify whether it has been damaged by hail or wind.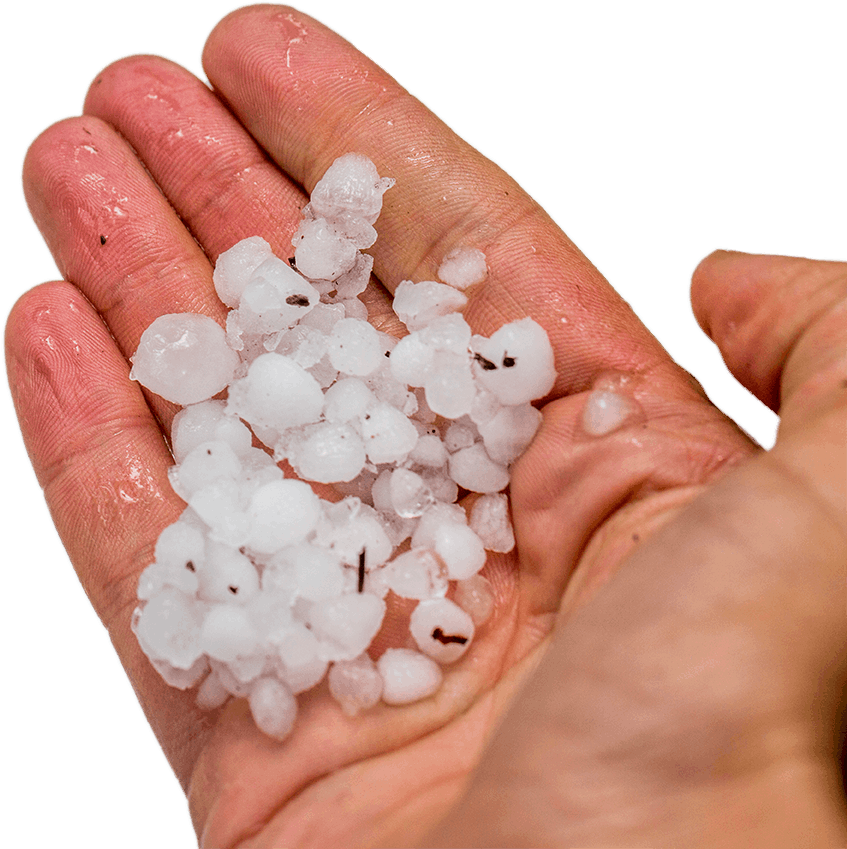 What To Do

After a Hail Storm

The subtle nature of hail damage is that it may pose no immediate threat to the structural integrity of the roof. However, many insurance companies have a "statute of limitations" of how long a hail or wind claim is viable. If you have experienced a loss such as hail damage it is wise to take care of the problem right away, before it leads to other associated problems.

Identifying hail damage after a storm requires the professional inspection of an experienced roofer. Premier is experienced at identifying storm event damage and assisting you with an insurance claim. We know and understand how hail damage affects different roofing materials. Roof hail damage can also vary greatly from one part of a house roof to another. This variation is due primarily to the wind that drives the hail. A glancing blow will do less damage than hail that impacts the roof at close to 90 degrees.

Roof hail damage on asphalt singles: Shingles can have broken or cracked tabs, but the most common hail damage takes the form of crushed or dented areas where granules are forced into the shingle mat material or displaced entirely. Since granules protect the shingle from UV degradation, hail dents can result in shortened shingle life. This damage usually qualifies the homeowner for an insurance claim.

Hail damage to wood shingles: Wood shingles can crack from hail impacts. Cracking will be along the grain, and can cause parts of shingles to break loose.

Hail damage to slate roofs: Hail impact can crack slates, although cracks tend to be more random than with wood shingles. Some slates may break loose from their fasteners and slide off the roof.

Premier will respond quickly when you've suffered storm damage, will give you a free inspection, and estimate for repairs or replacement, and will assist you in filing your insurance claim.


Creating & Maintaining

a Roof to Withstand Hail
Sheathing:
Sheathing is the wood, plywood, or wafer board nailed to the rafters or trusses of the roof. It is the part of your house your shingles rest upon. Sheathing can fail if it's begun to delaminate (plywood) or swell (wafer board) due to condensation. The Premier team can create secondary moisture barriers to limit the delamination process. In addition, we are skilled at correcting Ventilation problems that lead to delamination.
Shingles:
During hail storms, it's your home's shingles that can be damaged. Many of our customers select impact-resistant designer shingles to help prevent hail damage. Studies show that impact-resistant shingle can remain undamaged through 1.5″ diameter hail, even though metal vents exposed to the same hail sustain large dents.
Our CertainTeed designer shingles, for example, are rated Class 4, UL 2218 for impact resistance. Typically, the materials we recommend for roof renovations in Grand Rapids and West Michigan will carry a Class 3 or 4 rating and be rated for winds up to 130 MPH.
See What Your Neighbors Have To Say
4.9 out of 320 reviews!