Local Siding Contractors
in Grand Rapids
When you work with Premier you'll get professional, warrantied siding services with affordable siding financing options available. Get a free quote and an expert consultation to bring your new siding ideas to life.
Siding Materials We Install
in Grand Rapids
We specialize in vinyl and wood siding installation. Vinyl and wood siding materials are chosen by homeowners for their durability, low maintenance, and affordability. If you have a specific color or style you're searching for, we can find it for you. If you're not sure what type or style of siding you need, schedule a free siding consultation with our team.
Certified Vinyl Siding Installers
Our certified vinyl siding installers ensure your vinyl siding is installed correctly and upholds the highest standard of quality and performance. Vinyl is the most popular siding material in Grand Rapids and protects more than 60% of homes in the U.S. If you work with a certified installer like Premier, you know your new siding will be built to last.
8 Benefits of Vinyl Siding
Durability and resistance to weather damage
Low maintenance and easy to clean
Wide range of colors and styles to choose from
Affordable compared to other siding options
Improved energy efficiency of your home
Resistant to insects and rot
Does not require painting or staining
Eco-friendly (recyclable after use)
Certified Wood Siding Installers
Our certified wood siding installers will make sure your wood siding is installed with the highest standard of quality and performance. Wood siding is a popular choice for its natural and timeless look. By working with a certified installer like Premier, you can trust your wood siding will be expertly installed to stand the test of time.
7 Benefits of Wood Siding
Adds natural warmth and character to a home
Versatile and can be used with a variety of architectural styles
Good insulation properties (can help to reduce energy costs)
Can increase the value of your home
Offers a classic, timeless look
Can be sanded and refinished to remove any damage or wear and tear
Biodegradable and recyclable
Siding Brands We Offer
LP Smart Siding
LP Smart Siding is made from engineered wood that's combined with zinc borate, resins, and waxes to create an ultra-durable premium siding product. SmartSiding provides extreme durability against hail, wind, moisture, mold and termites. Best of all, it's backed by an industry-leading warranty that covers impacts, weather, and wear & tear.
Royal
Featuring over 2,000 colors and styles of vinyl, insulated, and PVC siding— Royal Build Products offers siding for every home aesthetic. Their siding is designed from the highest quality materials to resist fading, cracking, and peeling. Their state-of-the-art manufacturing process ensures each panel is perfectly uniform, making for a seamless and beautiful finish.
Ply Gem Mastic
Ply Gem Mastic's EverPlank luxury vinyl siding is a low-maintenance siding solution that'll last for decades. Ply Gem is the most-popular vinyl siding manufacturer in North America— and for good reason! They've been a leading innovator of siding technology for 75 years and offer a V.I.P. limited lifetime warranty.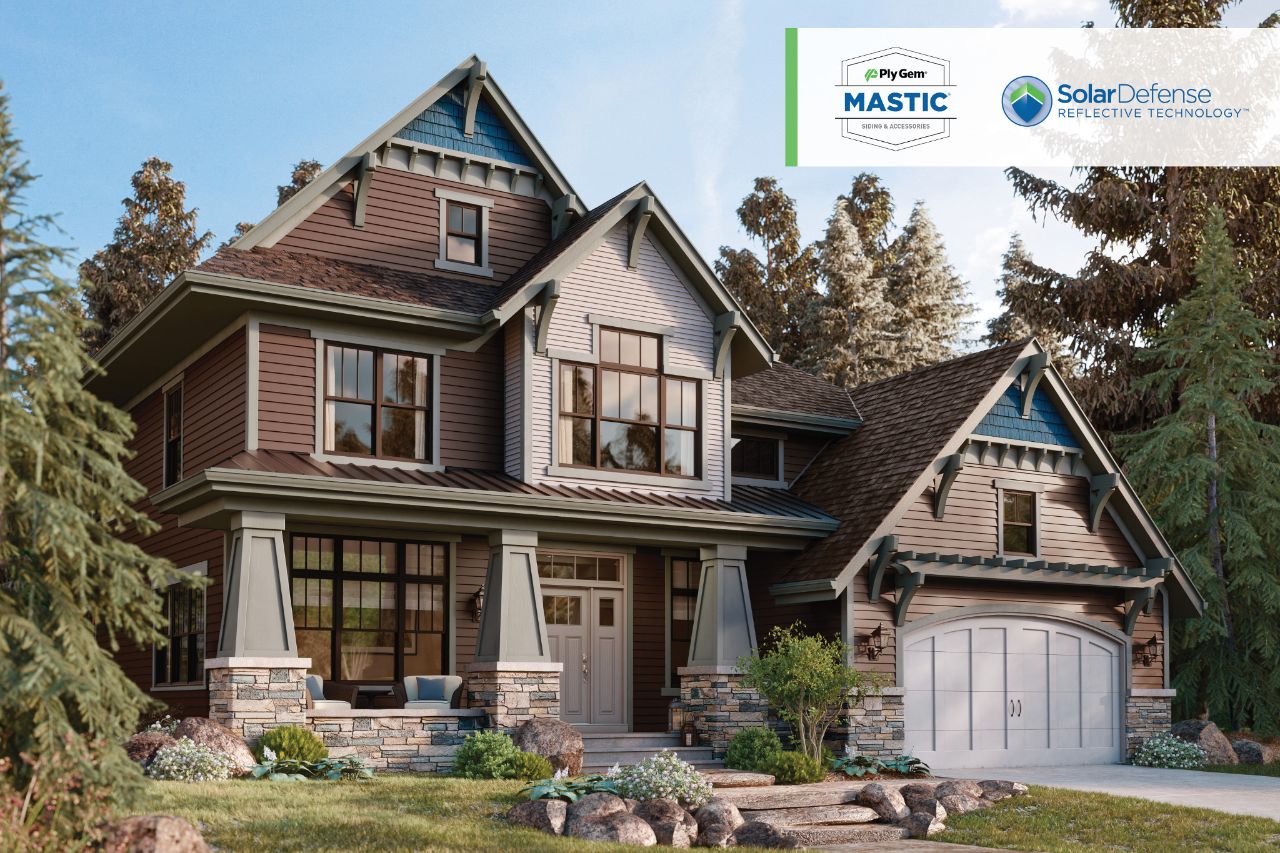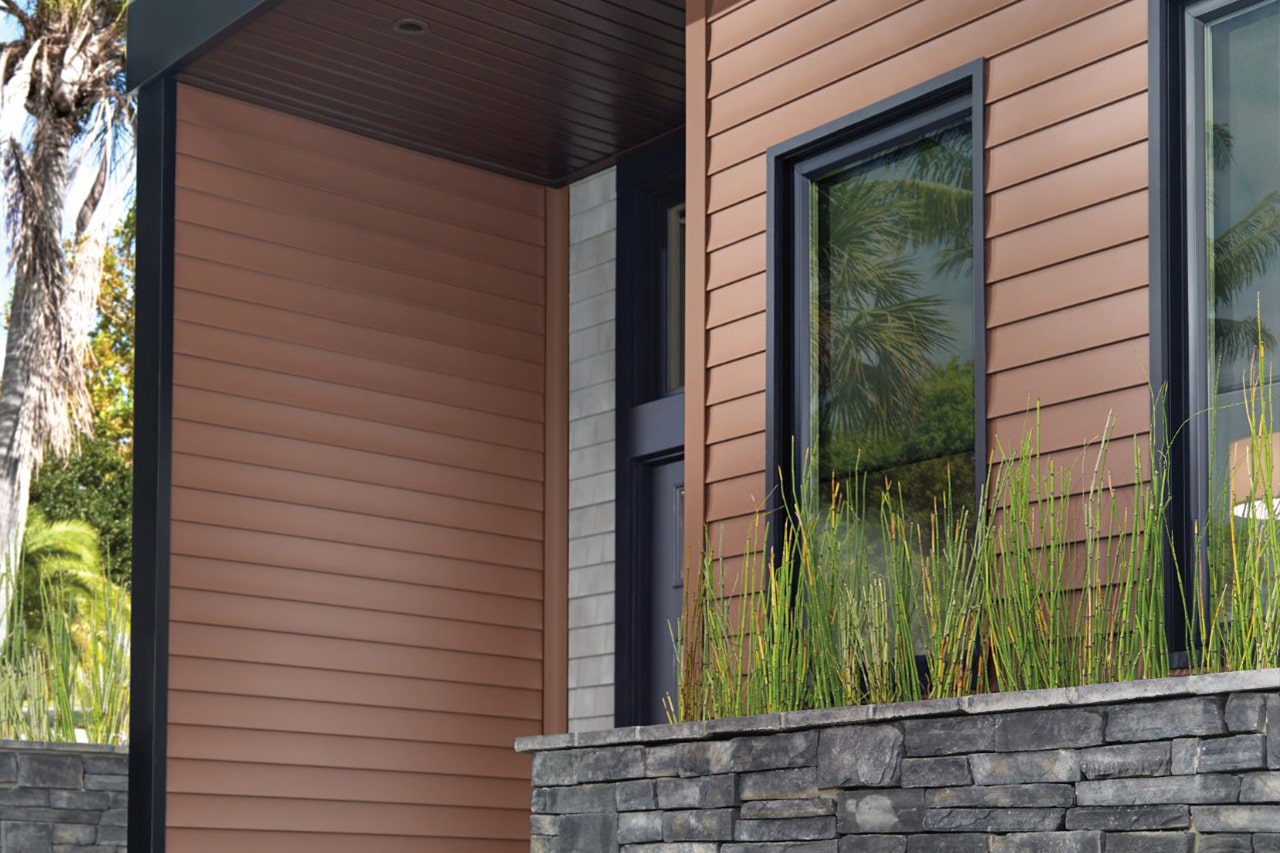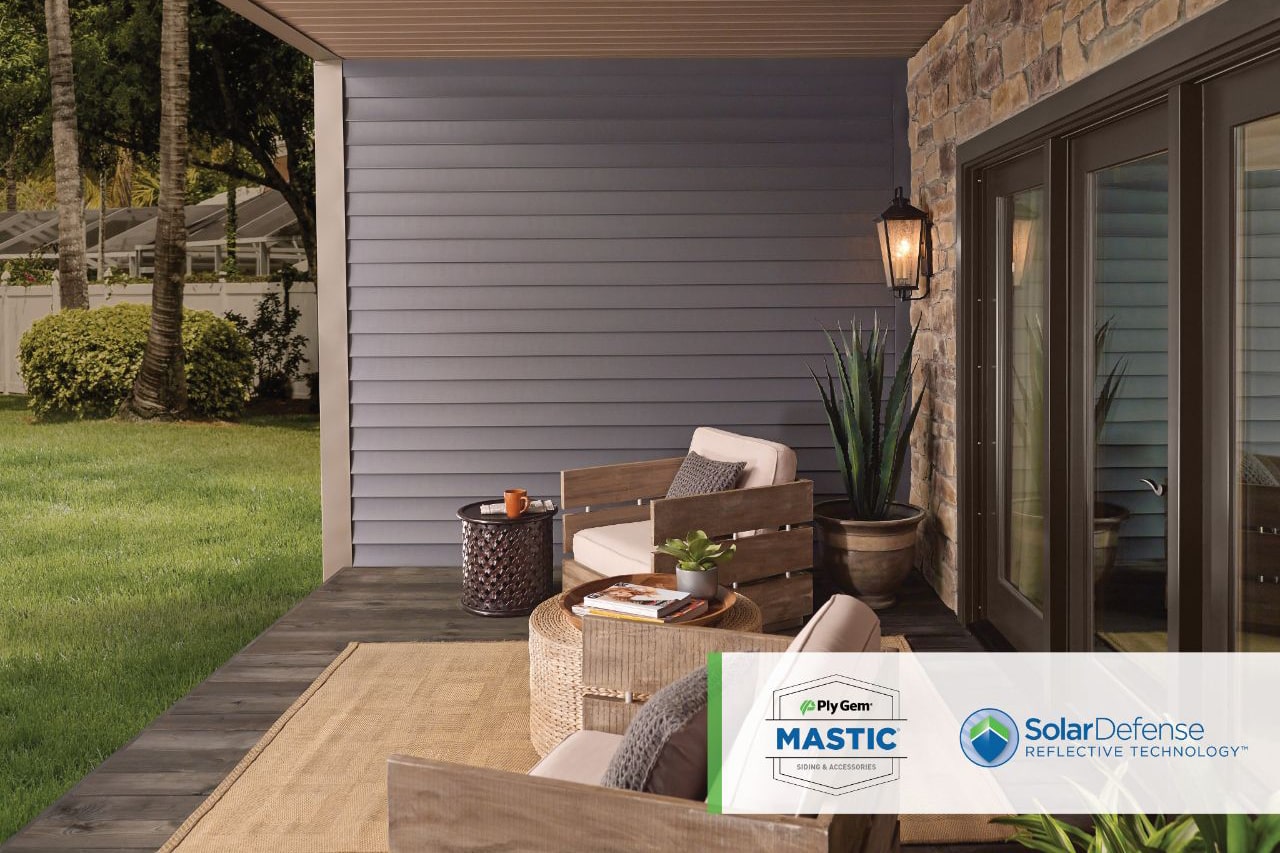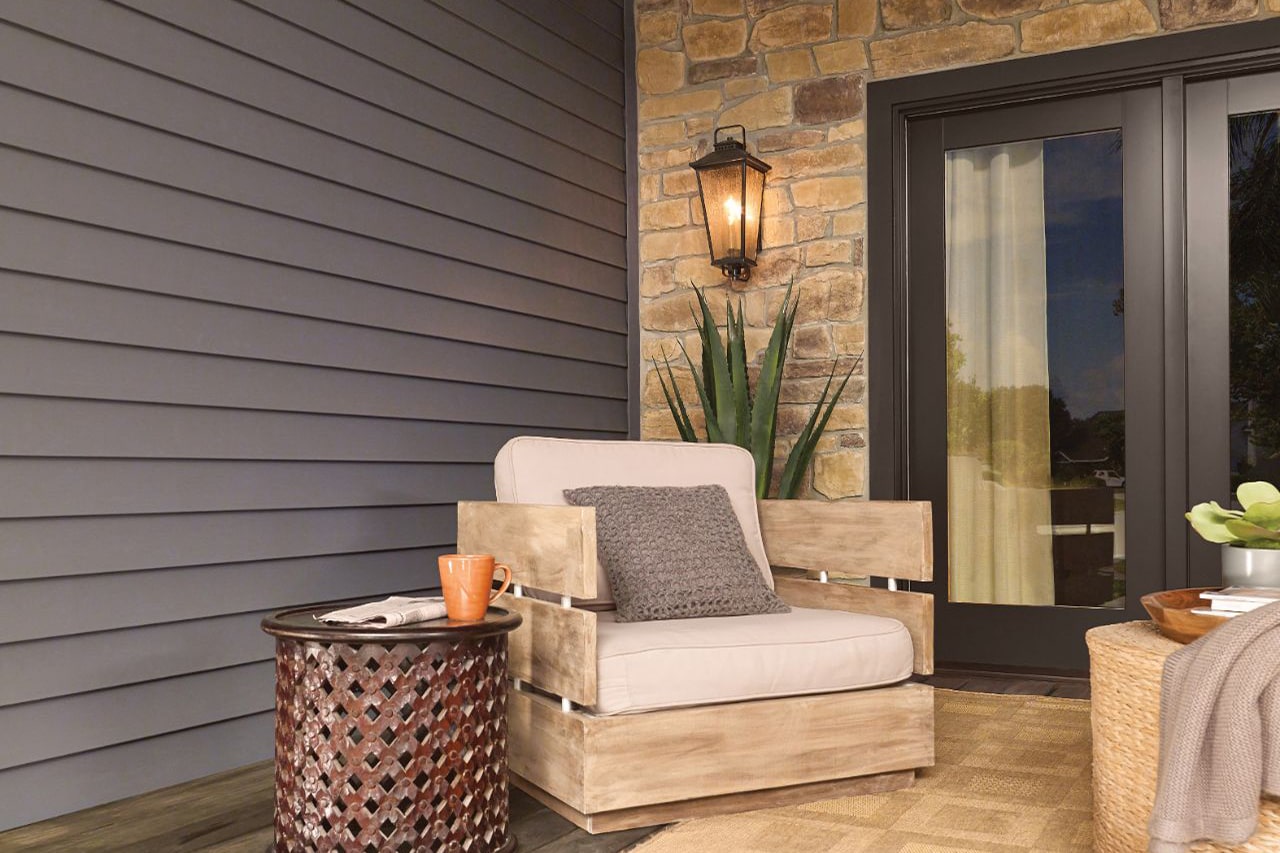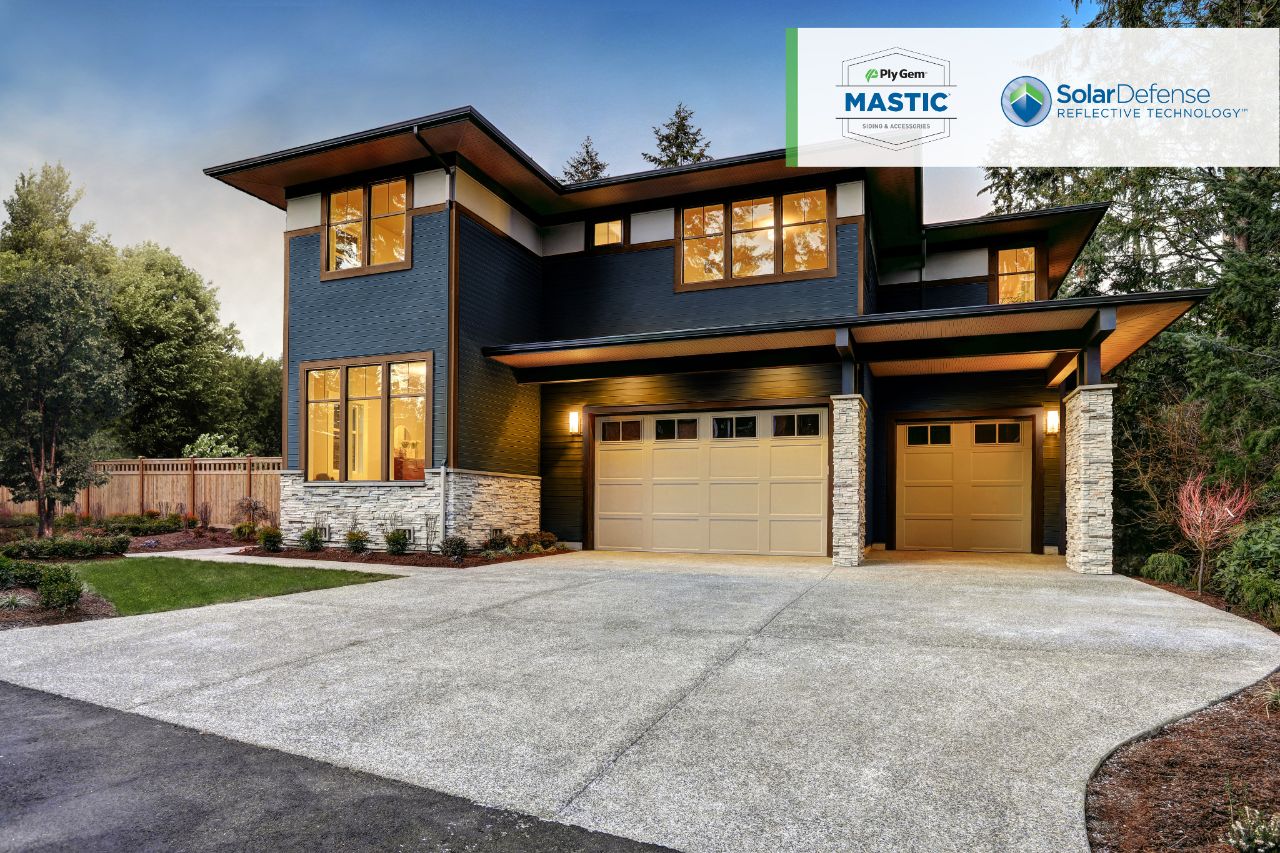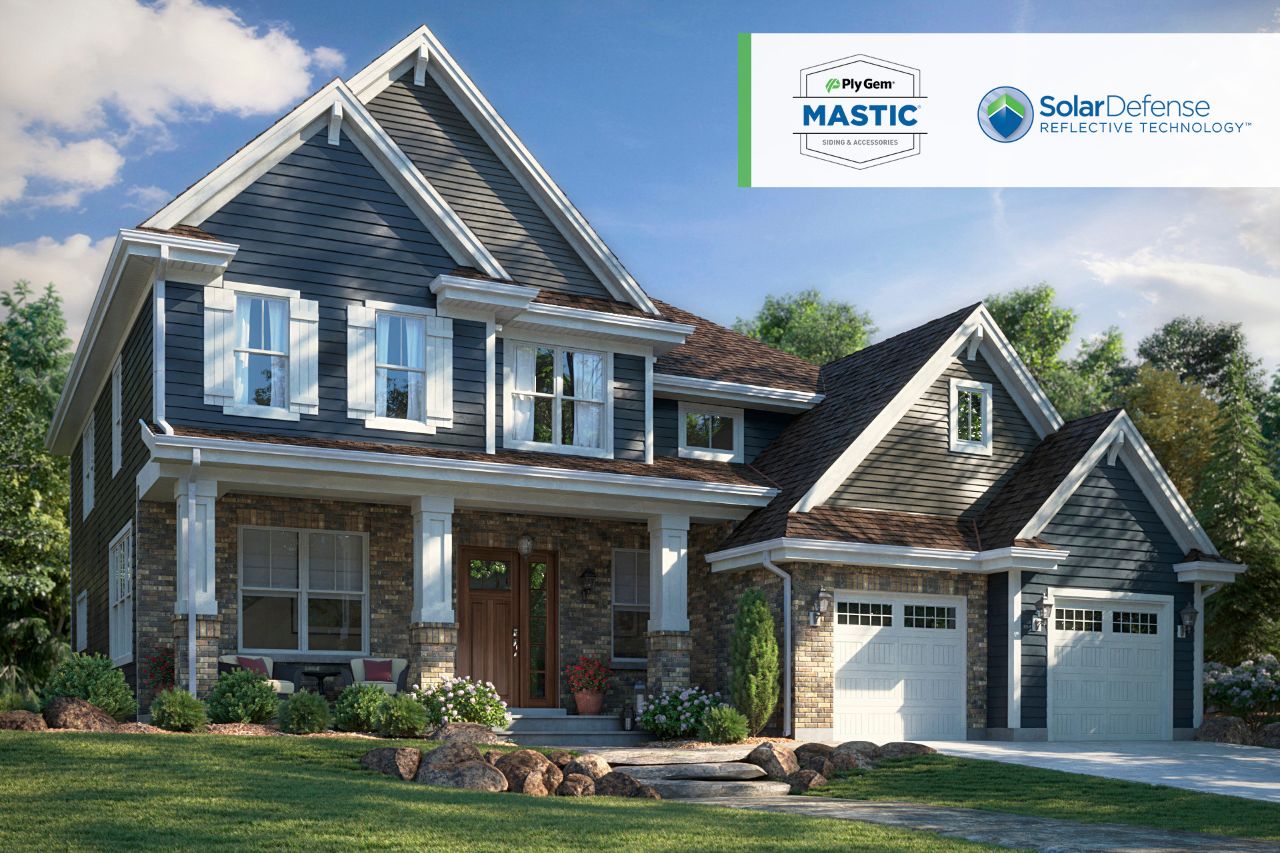 Ply Gem Mastic

Siding in Action

Upgrade your home's curb appeal with Ply Gem Mastic siding - durable and beautiful solutions for every style.
How to Choose New Siding
There are many variables to consider when choosing a new siding material, including performance. Before you lock in your new siding choice, make sure the brand and material you choose check all the boxes:
Water resistance
Water-resistant types of siding will have longer life spans.
Energy Efficiency
Check the R-value rating for energy savings and understand what will be needed as far as insulation beneath the cladding.
Aesthetics
Your siding will be in full view as you come and go, so make sure it is beautiful to you.
Versatility
Make sure the siding has the versatility to meet the varied needs of your specific project. If there are aspects of your home's exterior that will make using a particular type of siding more challenging than others, make sure you understand what the added costs or necessary adjustments will be.
Durability
Does it have the strength to resist temperature shifts prevalent in West Michigan? How does it stand up to everyday wear and tear?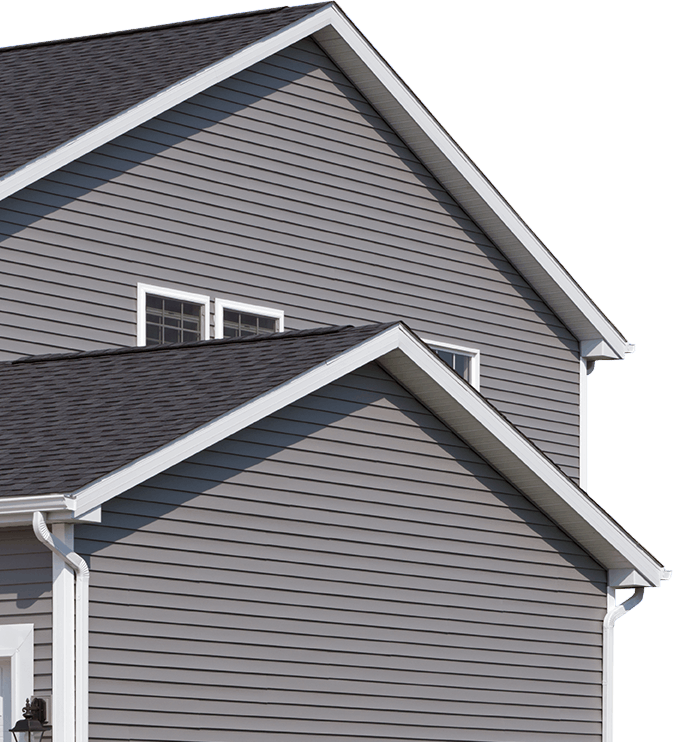 Warrantied Siding Installation
Each of the sidings we install are protected by a limited lifetime manufacturer's warranty. Should any part of your siding become damaged or defective after we install it, you will be protected by the brand's warranty. Our experienced siding contractors can help further explain the warranty process when you contact us.
Average Cost of Siding Installation in Michigan
The average cost of a siding installation on a median-sized home in Michigan is between $8,250 and $41,250. This wide range accounts for differences in material, home square footage, and the number of stories. The bigger the home, the more your siding installation or replacement is going to cost. To calculate the cost of your next siding project, try our Michigan siding replacement cost calculator or contact our siding estimators.
FAQs
What is included in siding installation?
Siding installation includes removing your current siding, inspecting the wall for imperfections and defects, prepping and then installing the new siding.
How long does it take to install new siding?
The length of time for siding installation can vary depending on the size of the project, but it typically takes several days to complete. Factors such as the complexity of the project, the size of the home, and the type of siding being installed can all impact the length of time required for installation.
What is the average cost of a siding project in Grand Rapids?
On an average home in Western Michigan (~1,800 square feet), a siding replacement will run you between $8,250 – $16,500.
How do I maintain my siding after installation?
You can maintain your siding by cleaning it regularly and inspecting it for any signs of damage or wear and tear. If necessary, have a professional repair any damage to ensure that your siding continues to look and perform its best.
What's the best time to install siding?
In general, the best time to install siding is during mild weather conditions, such as in the spring or fall. Avoid installing siding during extreme weather conditions, such as heavy rain or strong winds, as this can compromise the quality of the installation.
See What Your Neighbors Have To Say
4.9 out of 320 reviews!