Asphalt roof repair
Premier Roofing takes pride in being the go-to expert for asphalt roof repair services in Grand Rapids. When your asphalt roof encounters issues such as leaks, damaged shingles, or other signs of wear and tear, our asphalt roofing technicians are here to provide swift and effective repairs. With years of experience in the industry, we have honed our skills to address a wide range of roofing problems with precision. We repair using materials from industry-leading asphalt roofing brands and use proven techniques to ensure repairs stand up to unpredictable weather. Count on Premier Roofing for trustworthy and efficient asphalt roof repair to restore your roof's integrity and your peace of mind.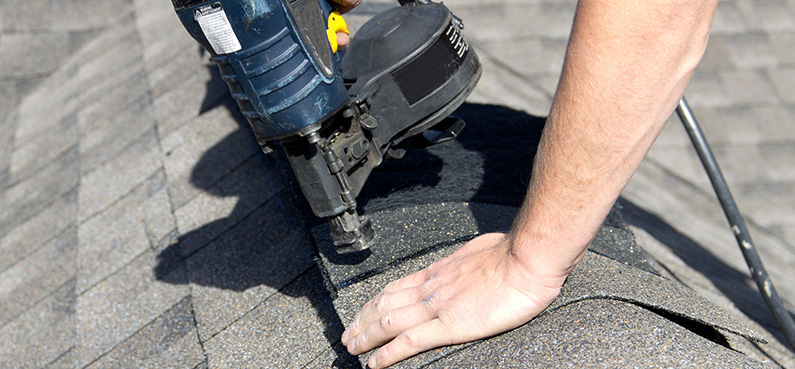 Asphalt roof brands we offer
We offer a variety of asphalt shingle brands to account for various style preferences and budgets. We proudly provide three industry-leading brands: CertainTeed, GAF, and Atlas. The brands we partner with are known for quality, durability, and aesthetic appeal. Our asphalt roofing experts help you select the brand to best suit your preferences and budget.

CertainTeed provides West Michigan with the industry's leading shingles recognized by roofers and homeowners across the country. CertainTeed's shingles protect your home against the Michigan elements, lower energy costs, and increase curb appeal.
CertainTeed Shingle Options

GAF's residential roofing shingles are tough, affordable, and aesthetic. As one of the most trusted roofing brands for Michigan homes, GAF shingles are guaranteed to last, protect, and improve the look of your home.
GAF Shingle Options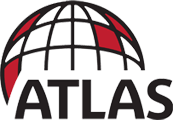 Atlas shingles are manufactured to stand the test of time and bring out the best in your home's aesthetic. With a wide selection of color and style options available, Atlas shingles are one of the most customizable, deluxe shingles available.
Atlas Shingle Options
Types of asphalt shingle styles
Asphalt shingles come in various types, each with unique characteristics. The most common types of asphalt shingles include: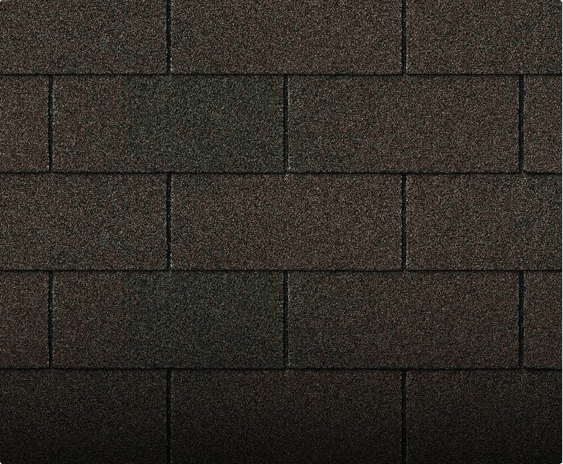 Three-Tab
Shingles
These are the most basic and traditional type of asphalt shingles. They have a uniform shape and size with three distinct tabs, giving roofs a horizontal appearance.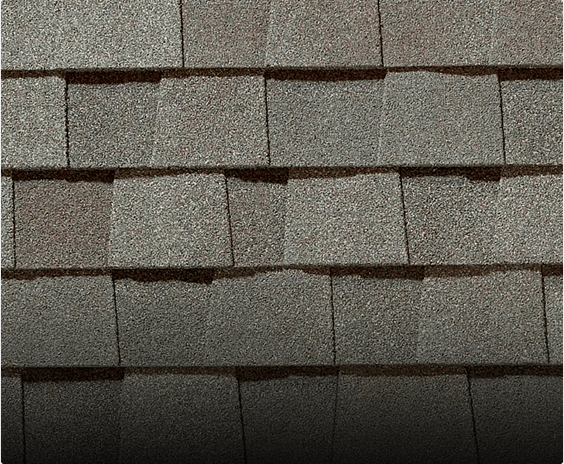 Architectural
Shingles
These are a more modern and popular type of asphalt shingle. They are made up of two or more layers of shingles to give a dimensional appearance, making the roof look more textured or layered. They are heavier and often more durable than three-tab shingles.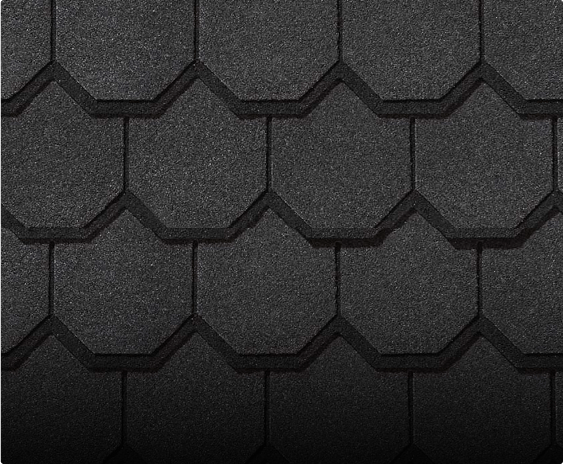 Luxury
Shingles
These are high-end asphalt shingles that are designed to replicate the look of natural slate or cedar wood shakes. They are often multi-dimensional in appearance and are typically heavier, offering more protection and durability.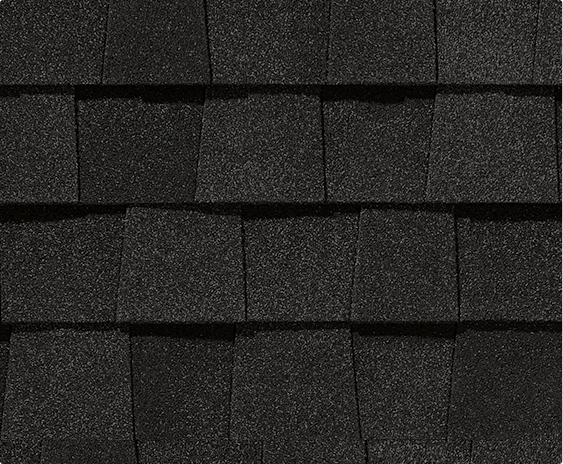 Impact Resistant
Shingles
Designed to resist damage from hail and other debris, these shingles are often used in areas prone to storms. They are constructed in a way that they can absorb the impact without showing signs of damage.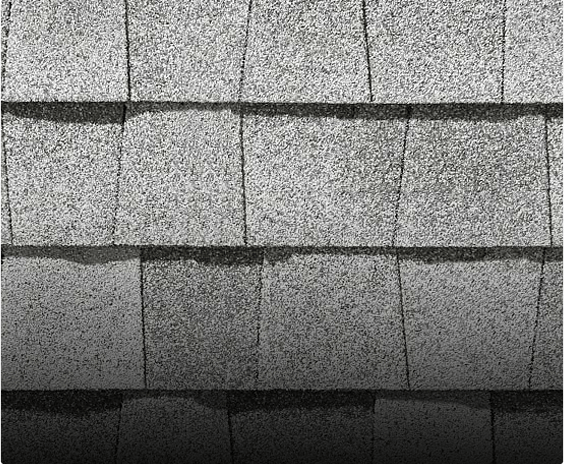 Cool Roof
Shingles
These shingles are designed to reflect more UV rays than typical asphalt shingles, reducing the amount of heat transferred to the building's interior. They are particularly beneficial in areas with high temperatures to keep homes cooler and reduce energy costs.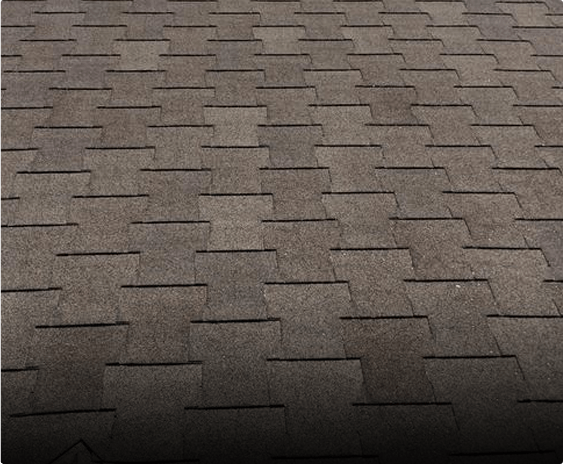 T-Lock
Shingles
Although they've become less common in recent years due to being replaced by more modern designs, T-lock shingles used to be popular in wind-prone areas because of their interlocking design.
Asphalt shingle colors
Selecting the right color for your asphalt shingle roofing is an important decision. The most popular asphalt shingle colors among Grand Rapids homeowners are black, brown, gray, and red. Premier Roofing offers a wide array of color options to match any home's style and enhance its curb appeal.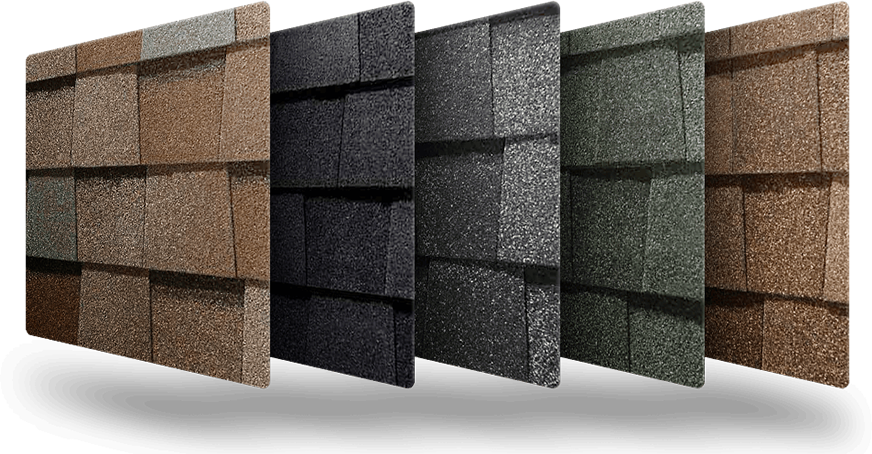 Benefits of asphalt shingle roofing
Asphalt shingle roofing offers numerous advantages, making it a preferred choice for many homeowners. Some key benefits include:
Affordability:

Asphalt shingles are cost-effective compared to other roofing materials.This affordability doesn't just stem from the initial purchase price. The installation process for asphalt shingles is generally quicker and less labor-intensive than other roofing types, which can further decrease the overall costs. When homeowners compare the balance between quality and expense, asphalt shingles often emerge as a preferred choice, especially for those on a tight budget or seeking value for money.

Durability:

Asphalt shingles withstand various weather conditions. Constructed to endure the elements, these shingles are resistant to damages from rain, snow, and wind. High-quality asphalt shingles have been known to last 20 to 30 years, and sometimes even longer, with proper maintenance. Their robust design and manufacturing processes ensure that they remain intact and functional, even when faced with severe weather events.

Versatility:

Available in various styles and colors to suit any home. Whether homeowners desire a rustic, traditional, or contemporary look, asphalt shingles offer an array of options. From the classic three-tab design to the more luxurious, slate-like appearance, there's a shingle style for every aesthetic. Additionally, with a wide color palette to choose from, homeowners can easily match or contrast their roof with the rest of their home's exterior.

Easy Maintenance:

Simple upkeep keeps your roof in top shape. While all roofs require some level of care, asphalt shingles are relatively low-maintenance. Periodic inspections, cleaning to remove debris, and addressing minor issues promptly can prolong the lifespan of an asphalt shingle roof. In cases where damage occurs, individual shingles can often be replaced without the need to overhaul large sections of the roof, making repairs more straightforward and less costly.

Energy Efficiency:

Today's market offers specially designed asphalt shingles that reflect more of the sun's rays than traditional versions. These "cool roof" shingles can help maintain more comfortable indoor temperatures during hot months, reducing the strain on air conditioning systems. As a result, homeowners can enjoy potential savings on their energy bills while also reducing their environmental footprint.
The cost of asphalt shingles
A full asphalt roof replacement for the average-size home in Grand Rapids ranges between $5,950 to $10,800. The average cost to repair an asphalt roof is between $300 and $4,000 each time a repair is required. The cost of asphalt shingle roofing varies depending on factors such as the size of your home, the brand of shingles chosen, and the complexity of the installation.
Financing for asphalt roofing
Premier Roofing offers flexible financing options to make your asphalt roofing project more manageable. We provide two financing choices:
Traditional Installment Roofing Loan
Fixed APR rates of 8.99% to 15.99% for manageable monthly payments. The traditional roofing loan comes with 12 to 144-month repayment terms.
12-Month Same-As-Cash Loan
Enjoy a fixed APR of 19.99% with no interest if paid in full within 12 months. It has repayment terms of 12 - 134 months
Our financing options help you protect your home without breaking the bank. Visit our roof financing page to learn more about our financing options!
Choose Premier Roofing as your Grand Rapids roofing contractor
Premier Roofing is your trusted partner for asphalt shingle roofing in Grand Rapids, MI. Whether you need repairs, replacements or new installations, our experienced asphalt roofing contractors are here to deliver Grand Rapids' best roofing solutions. Contact us today to protect your home and enjoy the benefits of asphalt shingle roofing.
See What Your Neighbors Have To Say
4.9 out of 320 reviews!

Frequently Asked Questions
What is asphalt roofing?
Asphalt roofing is a type of shingle that is made from a combination of asphalt and mineral granules. It is a popular choice for residential and commercial buildings due to its durability and affordability.
How long does an asphalt roof last?
An asphalt roof typically lasts between 15-20 years, depending on the quality of the installation and the level of maintenance it receives.
What are the signs that my asphalt roof needs to be repaired or replaced?
Signs that an asphalt roof may need to be repaired or replaced include missing or cracked shingles, leaks, and signs of aging or wear.
What is the best way to maintain an asphalt roof?
The best way to maintain an asphalt roof is to keep it clean, free of debris, and to have it inspected regularly by a professional.
Can an asphalt roof be recycled?
Yes, asphalt shingles can be recycled. Asphalt shingles can be ground up and used as a component in new asphalt pavement or they can be used as a fuel source.